Why Amazon's HQ2 Should Be Dallas Midtown Bound
October 11, 2017 | Posted in: Business, Commercial Real Estate, Real Estate, Technology
Amazon (ticker: AMZN) recently sent shockwaves across most major American cities by announcing it would be building a second headquarters, called HQ2, which would be a "full equal" to its Seattle campus.  The aftershocks have persisted into this week, as major metropolitan newspapers continue to assess their respective cities' viabilities in the competition — examples include the Chicago Tribune's "How big a deal? Amazon's massive HQ2 in Chicago scale," The Baltimore Sun's, "Breaking down Baltimore's chances for Amazon HQ2," and the L.A. Times' "Amazon is searching for new headquarters, and L.A. wants to be in the running."
In fact, mayors across America are lining up to offer tax-incentives to Amazon, who is pledging to spend over $5 billion in construction costs along with adding 50,000 in jobs to the winning city upfront; this is all in addition to, perhaps more important, the indirect economic benefits that the company knows it will create — every $1 Amazon spent in Seattle generated an additional $1.40 for the city's overall economy according to its proposal website.
Of course, Dallas, no rookie to landing big corporate relocations, is certainly in the fight.  Mayor Mike Rawlings has already said that there is "no question" that the city will offer incentives to attract Amazon. As Mayor Rawlings has already proposed, Dallas Midtown would be the perfect landing for HQ2. Additionally, Addison Mayor Joe Chow and Farmers Branch Mayor Robert C. Dye signed a letter of support endorsing the Dallas Midtown location. Its urban campus in the center of Dallas, 20-acre park, and planned 500,000 square feet of office space overlooking the park make Dallas Midtown especially suited for the task, as Amazon's workers will likely desire both a view as well as proximity to green space and recreation areas.  Furthermore, Dallas Midtown has enough space, as detailed in the graphic that follows, to accommodate Amazon's massive needs.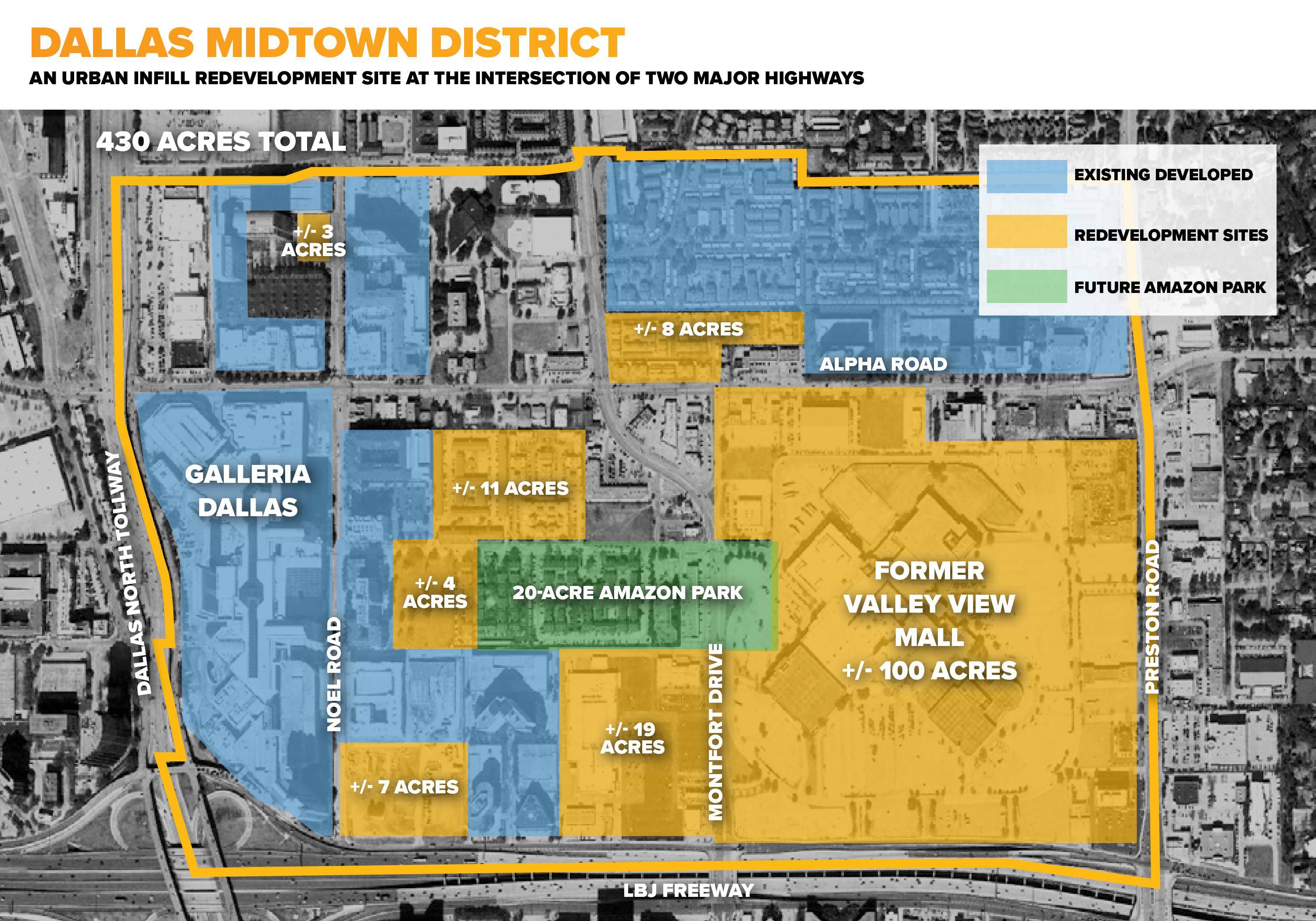 Logistically, Midtown boasts 18 fiber optic providers and cell towers onsite and is centrally located on LBJ Freeway (IH-635) less than one mile from LBJ's intersection with two of Dallas' most critical thoroughfares, the Dallas North Tollway and Central Expressway (SH-75).  Midtown's location can also boast that it lies less than a 20 minute drive from each of Dallas' two major commercial airports in Love Field and DFW International Airport and less than 10 minutes from the private Addison airport. Also, the Midtown development itself already has a proven track record of success having received commitments from Lifetime Fitness, Cinépolis Theaters, and a 440 key international hotel, in addition to numerous boutique shops, retail stores, and restaurants. The close, walkable convenience of these businesses will increase the well-being of Midtown's working population which is something Amazon will most certainly consider.  Dallas Midtown presents Amazon a unique opportunity for state-of-the-art, employee living with an up-and-coming, modern, urban location in a city whose growth continues to outpace its competitors.
While Midtown is the perfect site within Dallas for HQ2, Dallas itself has a lot to offer Amazon overall. The DFW metroplex is ranked 3rd in the country for metro area job creation since 2010. In addition to the recent surge of relocations in the area — Toyota relocated 4,000 employees to a regional headquarters in Plano this year, among others — Amazon's HQ2 would go down as the biggest corporate relocation in Dallas' history.  Colliers International's David Wetherington said, "It would go down as the biggest deal ever in our market. It's going to create a major frenzy."
But Dallas is accustomed to frenzies.  The frenzy of corporations moving to North Texas for its high quality of life, temperate climate, low cost of living, business-friendly economic environment, centralized & highly accessible location, educated workforce and expansive infrastructure is a prevailing trend whose history predates Amazon.  In fact, Texas Instruments researcher Jack Kilby jumpstarted Dallas' technology sector by developing the integrated circuit, a feat of engineering without which Amazon (and virtually every other modern tech company) would not even exist.  Electronic Data Systems, founded in 1962 by H. Ross Perot, laid the groundwork for Dallas' burgeoning tech sector by providing IT services for local financial and consumer markets.  In the succeeding decades, many other multinational corporations recognized Dallas' superior business climate and acted accordingly: American Airlines moved its headquarters from New York City to Ft. Worth in 1979; J.C. Penney relocated its corporate office to Plano in 1987; Exxon relocated to Irving from New York in 1989; and AT&T moved from San Antonio to downtown Dallas in 2008. Clearly, the DFW metroplex has been attractive to corporate relocations for decades.
Dallas is also attractive to young Americans.  In addition to enjoying the absence of a state income tax, Dallasites enjoy a cost of living that ranks only 35th in the country (according to Expatisan) despite being the 9th largest city in the US by population. It has an abundant housing supply, which continues to grow North and East into the area's large swathes of available and undeveloped land.  The public schools both within the city of Dallas and in the surrounding suburbs are stellar.  Plano and Frisco public schools continue to receive national recognition for their performance, and Dallas' magnet schools, School for the Talented and Gifted and School of Science and Engineering, were ranked #1 and #3, respectively, within Texas by U.S. News and World Report in 2017.
Dallas' transportation infrastructure, which includes DFW International Airport, Dallas-Love Field Airport — home of two of the most successful international airlines in the world in Southwest and American — IH-35, TX-75, the Dallas North Tollway, TX-121 and the recently expanded IH-635, makes travel in the metro area convenient when compared to other large American cities that Amazon is considering.  Dallas also enjoys perhaps the best weather of any city in the state, as North Texas is safe from the threat of a hurricane, a natural disaster which has recently afflicted Texas' other anchor city, Houston.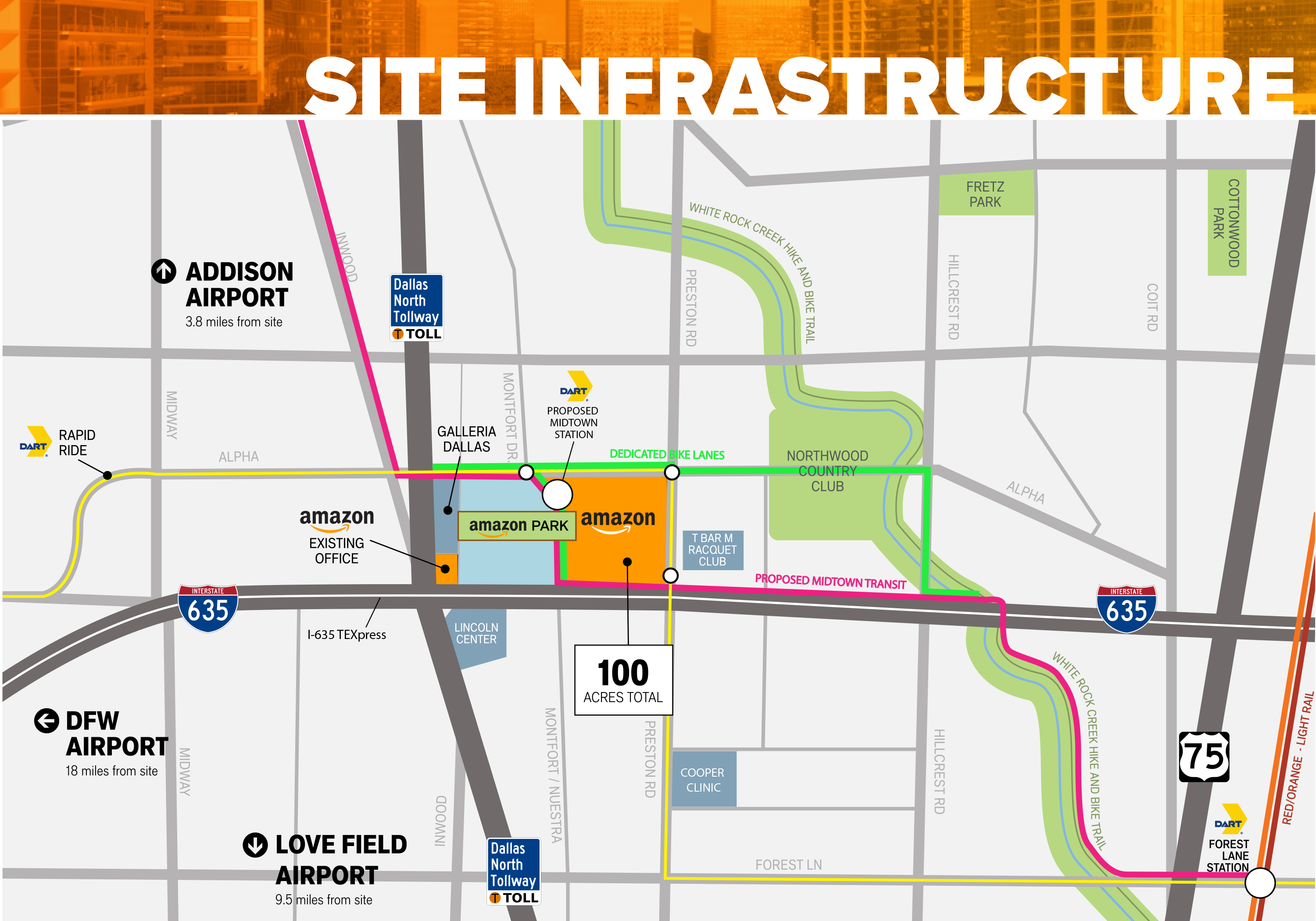 These advantages add up.  In an era in which "most of the nation's major metropolises are losing domestic migrants", according to the Brooking Institution, Dallas added 304,468 new citizens to its population between 2010 and 2016.
Amazon continues to set the standard in the world of e-commerce, and its physical location should aspire to the same level of preeminence in the urban realm.  As the US economy becomes increasingly dependent on e-commerce and consumer technology, forward-thinking mayors see landing Amazon's HQ2 as a ticket to stable economic growth. Considering Amazon's recent acquisition of Texas-based Whole Foods and its continued use of a successful business model that dumps all profits into internal reinvestment, Amazon's HQ2 is about the best economy insurance a mayor can buy. Former L.A. County Economic Development Corp. chair, Lloyd Greif, even said, "In terms of importance to the city, … the Olympics in 2028 would pale against Amazon's HQ2." Meanwhile, the real estate business is "scrambling to figure out" how cities actually rank in the RFP process. Amazon presents a unique opportunity for economic growth to the market of American cities willing to propose a site. While Amazon seeks to add 50,000 new employees to the city in which it chooses to relocate, Dallas' numbers speak for themselves. Dallas — specifically Dallas Midtown — is uniquely positioned to meet Amazon's significant needs and, with the assistance of Governor Abbott, Mayor Rawlings, the Dallas City Council, Addison Mayor Joe Chow, Farmers Branch Mayor Robert C. Dye and the owners of the Midtown sites, we absolutely intend to pursue the opportunity of HQ2!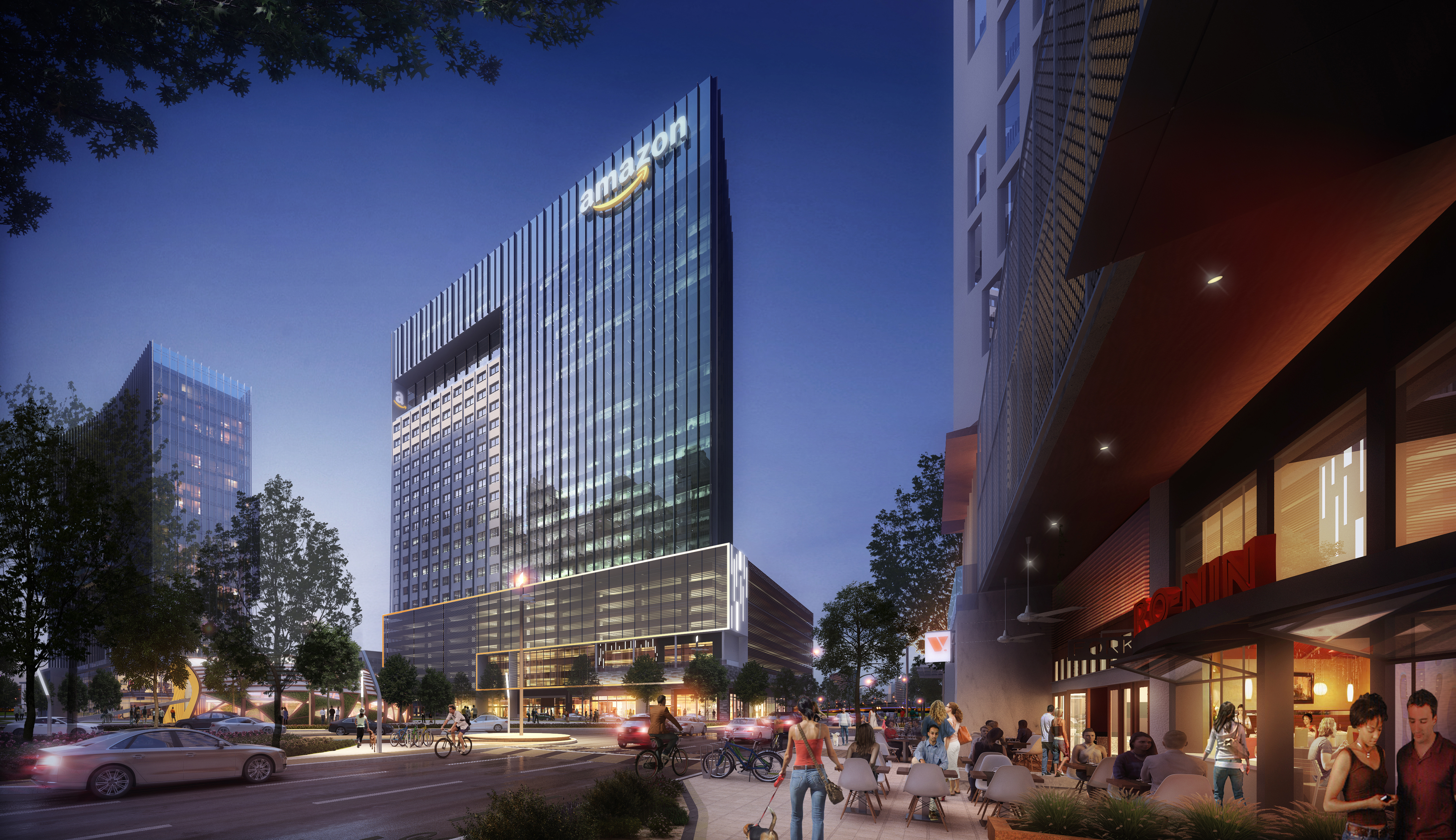 Scott N. Beck, a Dallas Texas Greenhill alumni, received a Masters of Accounting from the McCombs School of Business at the University of Texas at Austin where he completed his B.B.A. Mr. Beck is a member of the Board of Directors of United Texas Bank and is President of Beck Ventures.
11 Comments