by Candace Carlisle
Dallas Joint Venture to Create Walkable Mixed-Use Project at Former Mall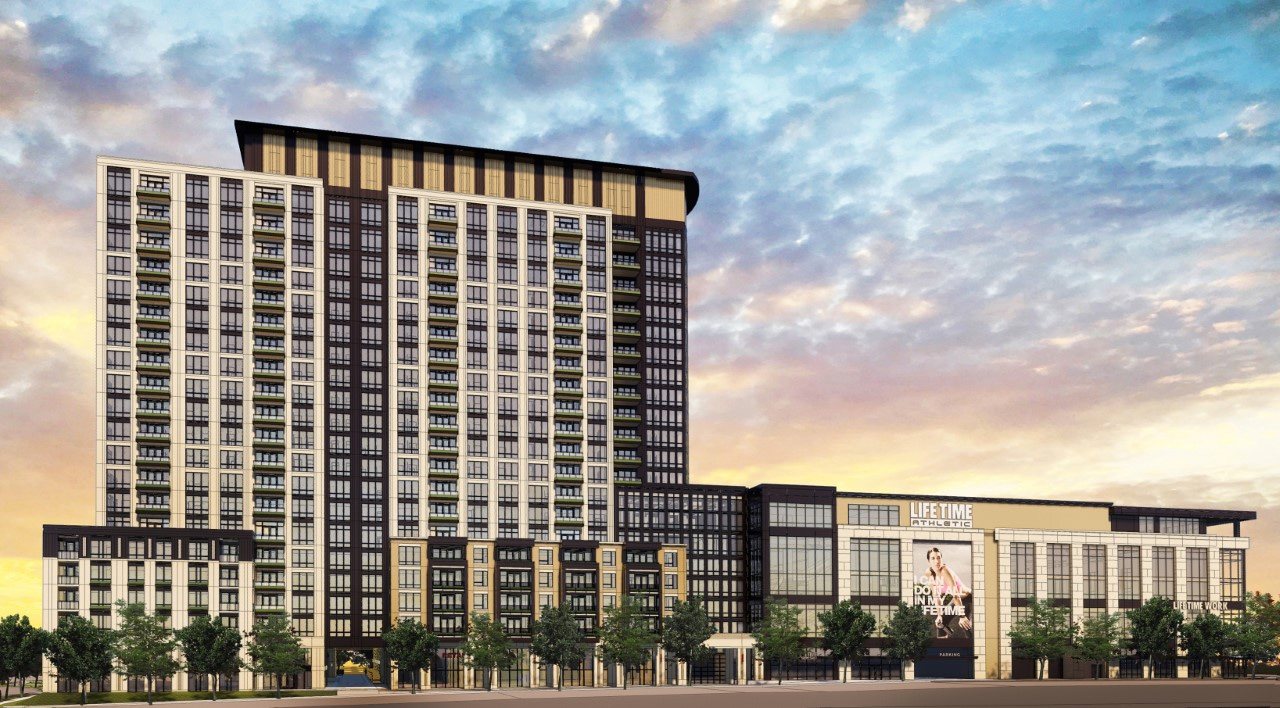 Life Time plans to build a rooftop beach club atop its project in Dallas Midtown: Image: Life Time
The once-delayed redevelopment of the site of Valley View Mall in North Dallas is proceeding with a joint venture between a Dallas developer and Life Time Inc., a Minneapolis-based company known for fitness clubs. In the process, it's pushing forward on a new nationwide development model.
A concept called Life Time Village at Dallas Midtown is in the works that will add an 18-story, 400-unit luxury residential tower on a site adjacent to the mall, which is currently being demolished, as well as a Life Time Athletic Club and other amenities as developers across the country lure residents with walkable projects.
Life Time has teamed up with Scott Beck of Beck Ventures, a Dallas-based real estate firm, which has been working on plans for years for the revival of Valley View Mall. The project was held up partly because of litigation, which has since been settled, and now the 46-year-old mall is back on track for demolition to make way for a new mixed-use development.
Once construction starts, Life Time Village at Dallas Midtown will be the company's largest such endeavor to date, building on Life Time's plans to extend its brand beyond the walls of being an athletic club. Life Time is also planning similar village-like concepts in Coral Gables, Florida, near Miami and Henderson, Nevada, near Las Vegas.
Life Time has about 15 million square feet of real estate across North America with about 1 million square feet of development in the construction pipeline. Even though Life Time's headquarters is in Minneapolis, the company's largest market by square footage is Texas, where it has about 2 million square feet in its portfolio and around 500,000 square feet in the pipeline, said Jason Thunstrom, the company's vice president of corporate communications.
"Dallas was a natural place for us to extend our brand," he added in an interview. "Life Time is a known brand with a known quality that will offer a lot of value to our customers with these new concepts."
Terms of the Dallas project's joint venture — between Life Time Founder and Chief Executive Officer Bahram Akradi and Beck Ventures — were not disclosed.
"This was a relationship that started four years ago," Beck said in an interview, adding it stemmed from a lease for a new Life Time Athletic Club at the project. "Bahram Akradi is one of the leading visionaries in development in the United States today and he had been looking for years to launch his new vision as Life Time as a healthy village."
The concept builds on Life Time's brand extension from an athletic club to its coworking concept Life Time Work and its living component Life Time Living, which make a village-like quality, Thunstrom said.
"We feel by pushing forward with these three projects, we'll get a good feel for what will work," Thunstrom said.
For the Life Time Village at Dallas Midtown project, the residential tower will include a 3.5-acre rooftop beach club on its fourth floor amenity deck, with an attached Life Time Athletic Club and a Life Time Work coworking hub. The project could be completed as early as 2021.
Two years ago, Life Time launched Life Time Work with a coworking concept adjacent to its fitness facility in Ardmore, Pennsylvania. Another coworking location opened about a month ago near one of Life Time's largest clubs totaling about 300,000 square feet in St. Louis Park, Minnesota. In June, Life Time will open a similar coworking concept in Houston within a quick walk to its CityCentre Life Time Athletic Club.
Life Time, which has its own real estate, architecture and design and construction division, is extending its brand beyond athletic clubs, Thunstrom said.
"By bundling where our customers live-work-and-play, we are taking a customer service-oriented model to all aspects of our member's lives for a high-end experience," he added. "We want to help that consumer achieve more with their time."
Beyond the Village
Along with the Life Time village concept, the developers plan for the initial $500 million phase of the Dallas Midtown mixed-use development to include the addition of a luxury 12-screen, dine-in theater for AMC Theatres, additional apartments with ground-floor retail space and an "eatertainment," concept to bring new restaurants to North Dallas. Additional phases are expected to include office space, hotels and additional retail creating a walkable district, much like the West Village neighborhood, Beck said.
In all, Beck Ventures has about 70 acres within part of a larger 430-acre Dallas Midtown vision created in a partnership with stakeholders and the city of Dallas to redevelop this part of North Dallas. The vision includes a 20-acre park owned by the city, which will serve as a central park for the new district.
Dallas Midtown is bound by the Dallas North Tollway, LBJ Expressway, Hillcrest Avenue and Spring Valley Road in North Dallas. Other developers have ongoing projects within the city-designated Dallas Midtown district.
The new Life Time village concept at Dallas Midtown is expected to get underway in the near future, Beck said, adding he's already started early discussions with potential retail and restaurant tenants to help create the "eatertainment," concept.
Dallas city councilman Lee Kleinman said he's excited to see the long-stalled project moving forward in its development.
"This has been such an eyesore and blight in the community with many code compliance and safety concerns," Kleinman said in an interview. "I am very excited to see the mall coming down and relieved. I do believe in the Dallas Midtown vision."
The city of Dallas and Beck Ventures settled a lawsuit involving code compliance issues tied to Valley View Mall, which had been left partially demolished, Kleinman said. The property was left gathering dust after the city pulled economic incentives totaling $35 million tied to performance criteria of the development meant to reimburse the developer for putting in infrastructure, such as roadways and sewer lines, over a 30-year incentive agreement.
By pulling the incentives, Beck said he was no longer able to underwrite the project, leaving the project in peril. This was after a much-publicized demolition event in June 2017, which some say in the community was an attempt at meeting a deadline tied to the incentives. Later, an adjacent demolition of the former Macy's building by another developer inadvertently resulted in an entire wing of Valley View Mall collapsing, Beck said, further complicating the matter. But these two separate legal issues have been resolved, he said.
"Five weeks ago, effectively, both of those issues were fully resolved and both were settled," Beck said, adding he couldn't disclose the resolution citing non-disclosure agreements tied to the settlements. "All parties involved seem to be happy things are moving forward now."
For the record:
ESG, an architecture firm based in Minneapolis, is working with Life Time on the designs of the Life Time Living concept at Dallas Midtown. A general contractor has yet to be hired for the project, but Beck said there's a short list of two general contracting firms.